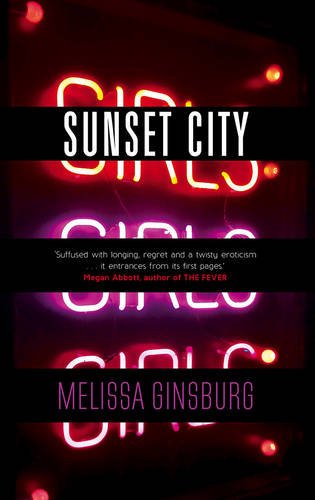 Recently I read and loved Sunset City, the grim, Houston-set tale of twenty-two-year-old Charlotte, whose best friend was brutally murdered in a hotel. While the two were intense childhood friends, she hasn't seen Danielle in a while, after their lives skewed apart due to adulthood and drugs and the wrong type of friends. But recently she and Danielle had made contact, but then, before they could repair their damaged bonds, Danielle is killed. Charlotte searches for the truth, but she's no detective (though there is one, and he's mostly there to be attractive). The book does tie up neatly, but it's not due to any real, deliberate investigation, as much as Charlotte trying to connect with those who Danielle now loved, and getting ridiculously high and endlessly drunk and having some don't-read-these-parts-on-public-transport sex.
Sunset City is not a style I'm used to, seeing as such a vast amount of crime writing involves alcoholic, bitterly single police officers who sidestep the law gently but with lots of swearing. There are books where the protagonists aren't professional detectives in any capacity, but have other training that helps, a field of expertise in medical or science backgrounds. The only real talent Charlotte has here – not that I'm implying she's stupid, more just unfocused – is that she will throw herself into situations with abandon, and they carry her where she needs to be. It seems like lazy storytelling, but the story itself is a heady read, like a literary trip in the most psychedelic of senses. It's tight, taut, breathless writing, and I enjoyed it. I felt for the character, her broken past, her unsure future, even as I found her lifestyle totally incompatible with my worldview. (Sure, let's drink a mountain of booze and then get in your car and go drive around with a stranger, why not?)
I do find non-professional main characters, in general, to be an enjoyable foray into how we everyday folk would deal with any kind of criminal situation. You can't just strut up to the relatives of the victim and ask questions – but you can try. Doors won't open for you, so you find another way. Sometimes you stumble into answers. Sometimes they stumble into you. And it turns out that it can work–but you've really gotta have everything else down pat first: your immersive writing; your dark, neon landscape; your relatable (or at least readable) characters.
Do you prefer your main characters to have investigative expertise on their side? Or does it not matter to you? I can't say for sure that I do have a preference – I think a lot of my favourite novels still do involve actual detectives – but I'd love to know your thoughts.